This is NOT going to become a cat blog, I swear
I have been swamped with work this past week—no time for any fun-type writing. Now that I have a moment to post, the inkwell seems to be dry. I guess a visual will have to do instead. So, meet my coworker: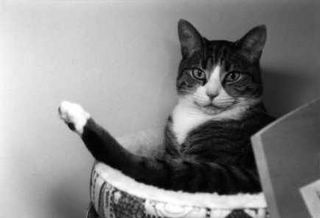 I am self-employed and work at home. I am here all day, all alone except for the cat, Rex. He spends his day as you see him, in his office behind my editor's desk thing. He generally doesn't stir until Wife gets home from teaching and gives him a snack. I refer to him as my coworker, but you see it's just a little joke on my part because in fact he does
NO
work
AT ALL
.